All counties and Public Safety Answering Points in the state of Washington can now accept Text-to-911, thanks to the Next Generation 911 network.
"The standard for Text-to-911 in Washington and nationally is: 'Call if you can, text if you can't,'" said Adam Wasserman, State 911 Coordinator. "A voice call to 911 will get help moving faster than a text message, but use the method that keeps you, as the caller, safest."
All 911 centers in Washington have made the necessary changes to their call handling equipment and can receive and respond to requests for assistance that arrive via text messages.
The State 911 Office is currently working with the statewide 911 call delivery network contractor to perform the necessary upgrades to enable delivery of Real-Time Text messaging which should be available to the 911 call centers beginning in Q4 2023. As it is now, standard "SMS text messages" arrive almost immediately after the person hits "send," but the entire message arrives at once. With Real-Time Text (RTT) technology, each character arrives as the person types it into their phone.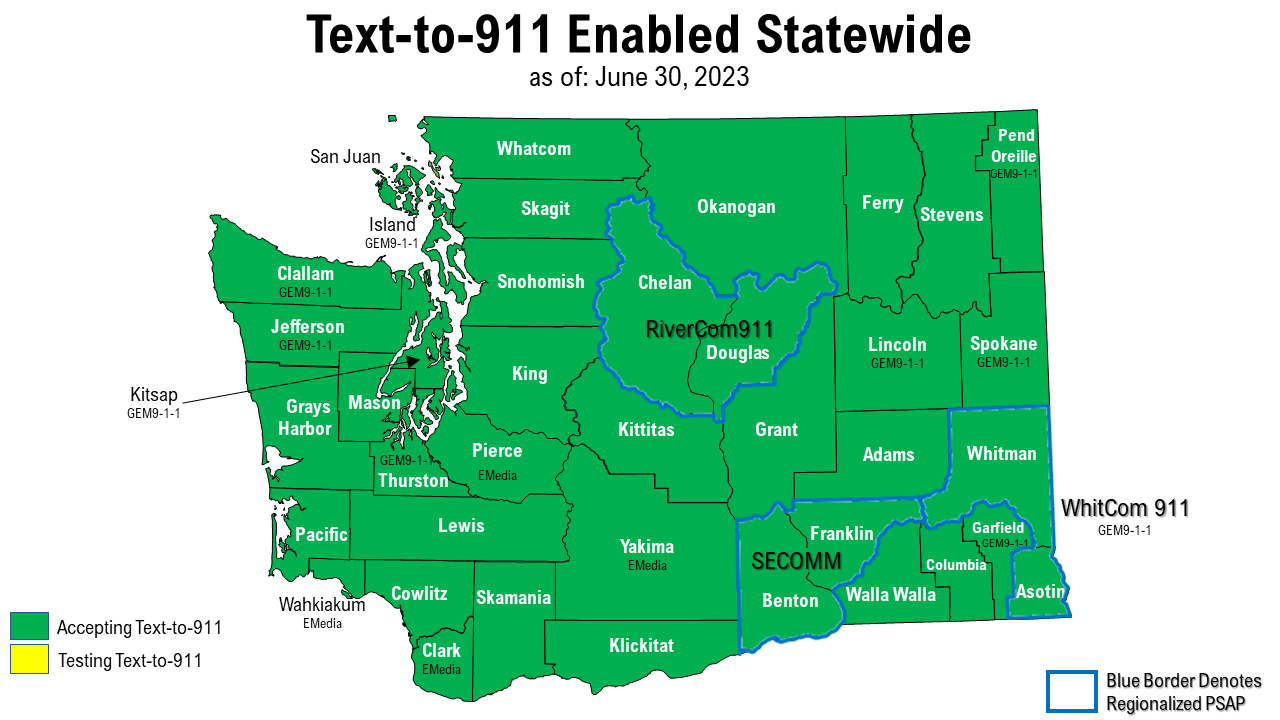 Should I call or should I text?
You should always call 9-1-1 if you can. A conversation can relay the needed information to get you the help or services you need much more quickly than a text conversation. Call if you can; text if you can't. A dispatcher will likely ask you if you are available to talk.
Is it text only? What about sending photos and video at a scene?
Photos, videos or even an emoji can't be sent to 911 at this time. Please just send basic text.
How do I text 9-1-1?
Open your phone's text messaging program. Enter the numbers "9-1-1" in the "To" field (no dashes). Type a message with the exact location of the emergency (including city) and the type of emergency help needed (police, fire, or medical). Push the "Send" button. Stay with your phone, be prepared to answer questions and follow instructions from the 911 call taker. Be aware of auto correct especially when providing a location. Do not send the same text message to multiple people at the same time. A "group text" will cause your message to 9-1-1 not to go through. Do not send your emergency text to anyone other than 9-1-1. Do not use emoticons or other symbols and do not use abbreviations or acronyms (text speak).
Will the dispatcher know where I am when I text?
Not necessarily. Always know your location. You will need to text 911 where the emergency is located.
Could there be technical issues?
As with all text messages, messages to or from 911 may have a delay, may get out of order or may not be received at all. If you are roaming, Text-to-911 is not available. Text in English only – interpreters are not available for text at this time. Keep text messages brief and concise using full words. You must have text messages included in your cell phone plan with a participating carrier to place a text to 9-1-1. When some phones can't get a voice signal, the data plan may still work, which may allow you to text out to 911 when you otherwise couldn't talk to 911.
Why is texting important?
Text-to-911 is intended to benefit people that may not be able to speak due to an emergency situation, such as a home invasion or abusive partner, as well as individuals that are deaf, hard of hearing or have speech disabilities. If you are using Text-to-911 because you are trying to not be heard, don't forget to silence your cell phone.
How are the upgrades being paid for?
The 911 system is funded by an existing fee that is already included in phone service fees.